My Top Favorite Face Makeup- Ride or die tag: Blush
 © 2018. beautybulletins.com All Rights Reserved. Do not reproduce or republish content without permission.
Most of my bareMinerals blushes are in kits & palettes I have bought. My bestie has gifted me with a few as well. My skin is very fair, and I don't find the colors to be overbearing because they are buildable. I have loose powder blush and compact blushes and also love that I can build on the color. Depending on what foundation I'm wearing, I can start very light and then build for darker color if desired. Goes on smoothly blended beautifully. Love the consistency, color, and staying power. It is also lightweight. Application is easy and even and non-drying. I only have to use a little bit each time, so it is a wonderful value. 
Some of my favorite colors are:" 'The One" (pictured below),
"Secret" (loose powder) & "Golden Gate"(sold out in solid).
READY™ BLUSH Solid Mineral Powder Blush.
bareMinerals READY™ Pressed Powder Blush enhances cheeks with  stay-true buildable color. Powered by our proprietary SeaNutritive Mineral™ Complex with antioxidants and cold-pressed camellia oil, this silky long-wearing formula delivers softer, smoother skin. Solid mineral color lasts for up to 8 hours.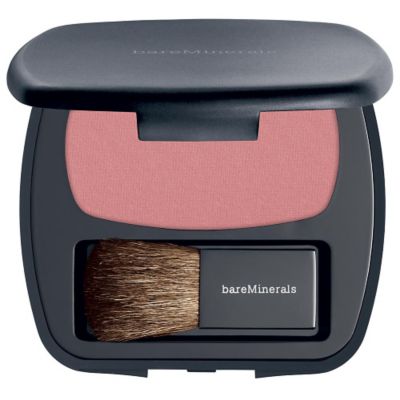 This beautiful pressed powder blush comes in a lightweight compact along with a small travel blush brush (ideal for touch-ups). bareMinerals Ready Blush is long lasting, its smooth formula glides over skin with ease offering buildable coverage meaning you can control the color intensity to your personal liking. I can easily achieve eight hours from this reliable blush and am impressed that it lives up to its 8-hour claim.  It is one of my favorite blushes and I would definitely say that it is a great value for the money.
Try this blush and you won't be disappointed!
Of course all makeup lasts better with a primer. See my review on
Protected by Copyscape Plagiarism Checker – Do not copy content from this page

DMCA.com Protection